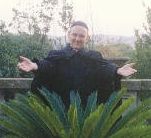 The founder was born in a village named Grabie near Krakow on March 26, 1939.
At four years he said that he once became priests ..
After the basic and secondary school, he visited the high school from 1953.
At that time, the Stalinist atheist regime prevailed in Poland.
His open commitment that he wanted to study theology, caused a wave of harassment, which forced him to change the high school six times.
Despite many difficulties, he remained faithful to his appeal.
In August 1958 he entered the religious community of the resurrectionists.
After completion of the novitiate, on September 15, 1959, he launched the first religious volumes and immediately started studying at the philosophically theological institute of Mission Priests in Krakow.
He received the priestly in Krakow on 19 March 1965.
The main election object to the Primiz was the desire for Jesus in prayer to the Heavenly Father: "So that all are one!" (Jn 17: 11.21).
From 1972 he worked in Brazil (5 years), then in Germany (10 years).
In 1980 he founded Germany the Samaritan movement of Mary's unity.
In 1982 he founded the brothers Samariter FLIHM with four young men.
A year later the sisters Samaritan FLIHM.